| | | |
| --- | --- | --- |
| | OUR PRODUCTS | |
All COFI Transformers Accessories
COFI Primary Connections Plug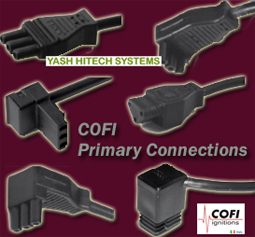 COFI High Voltage Cables

SILICONE/CARBON FIBER cable
1x1 diameter 7


SILICONE/ CARBON FIBER cable
1x1 diameter 5.2 mm


SILICONE/COPPER Cable 1x1
diameter 7 mm


SILICONE/COPPER Cable 1x1
diameter 4.7 mm


OZONE, PVC/COPPER Cable 1x1
diameter 7 mm
COFI Connections and protections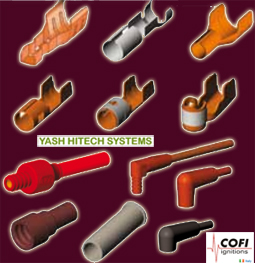 Connector for faston


Connector in phosphor


Connector, diameter


PVC over moulded Cap


PVC over moulded 90° Cap


Silicone Cap L = 35 mm


Terminal cap, type A


90° Silicone Cap for 6.3mm


90° Silicone Cap for 4 mm
COFI Installed Cable Lengths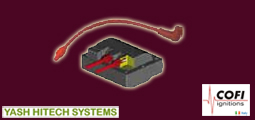 Complete high-voltage cables. Complete cable for high pressure cleaners. It ensures perfect sealing of the transformer outputs for perfect protection against humidity in dirty and contaminated environments.

Cable in silicone/copper

Cable in silicone/ carbon fiber, diameter 7 mm.
Custom-made length. Connector, diameter 4 mm, overmolded. 90° Connector, diameter 6.3 mm, with terminal cover.
Mounting brackets

40X40 mm galvanized bracket


102X26 mm galvanized bracket
Filters

Emi disturbance suppression filter.
Cofi transformer models are TRW, TRJ, TRK, TRH, TRL, TRZ, TRE, TRS, TRG
ELECTRONIC IGNITION TRANSFORMERS TRK1-20CVD, TRK1-20PCVD, TRK1-30CVD, TRK1-30CHD, TRK1-30PCVD, TRK2-35, TRK2-30PVD, TRK2-30PFVD, TRK2-30PVDUS, TRK2-30PFVDUS, TRK2-40VD, TRK2-40HD, TRK2-40HK, TRK2-40HKL, TRK2-40PVD, TRK2-40PHK, TRK2-40PHKL, TRK2-40SHK, TRK2-40SVD, TRK1-20CUVD, TRK1-20PCUVD, TRK2-30PUVD, TRK2-30PUFVD, TRK2-30UVD
This transformer is produced with the electronic technology, the system is vacuum impregnated to ensure the highest rate of insulation. The features of this transformer make it suitable for gas and oil burners where is required continuous power, with smaller size and weight than conventional inductive transformers.

The Application : The electronic ignition transformer is suitable to be applied to all kind of oil and gas burners, wall hang boilers, hot water high pressure cleaners and anti-mosquito equipment.

Electronic Ignition Transformer TRK: This is a standard electronic transformer. The features of this transformer make it suitable for a wide range of applications such oil and gas burners, continuous or intermittent duty, single or double poles.

Type of TRK Transformers

Transformer TRK1-20CVD
Transformer TRK1-20PCVD
Transformer TRK1-30CVD
Transformer TRK1-30CHD
Transformer TRK1-30PCVD
Transformer TRK2-35
Transformer TRK2-30PVD
Transformer TRK2-30PFVD
Transformer TRK2-30PVDUS
Transformer TRK2-30PFVDUS
Transformer TRK2-40VD
Transformer TRK2-40HD
Transformer TRK2-40HK
Transformer TRK2-40HKL
Transformer TRK2-40PVD
Transformer TRK2-40PHK
Transformer TRK2-40PHKL
Transformer TRK2-40SHK
Transformer TRK2-40SVD
Transformer TRK1-20CUVD
Transformer TRK1-20PCUVD
Transformer TRK2-30PUVD
Transformer TRK2-30PUFVD
Transformer TRK2-30UVD

TRK1-20CVD 220-240V 30W 20 mA 12 mA 2x14 kV 100% 60°C Grounded center
TRK1-20PCVD 220-240V 30W 20 mA 12 mA 1x15 kV 100% 60°C Grounded pole
TRK1-30CVD 230V 30W 30 mA 17 mA 2x12 kV 100% 60°C Grounded center IMQ
TRK1-30CHD 230V 30W 30 mA 17 mA 2x12 kV 100% 60°C Grounded center IMQ
TRK1-30PCVD 230V 30W 30 mA 17 mA 1x15 kV 100% 60°C Grounded pole
TRK2-35 220-240V 65W 35 mA 20 mA 2x10 kV 33% on 3' 60°C Grounded center
TRK2-30PVD 220-240V 63W 30 mA 20 mA 1x15 kV 33% on 3' 60°C Grounded pole IMQ
TRK2-30PFVD 220-240V 63W 30 mA 20 mA 1x15 kV 33% on 3' 60°C Grounded pole
TRK2-30PVDUS 230V 69W 30 mA 20 mA 1x15 kV 33% on 3' 60°C Grounded pole - IMQ
TRK2-30PFVDUS 230V 69W 30 mA 20 mA 1x15 kV 33% on 3' 60°C Grounded pole
TRK2-40VD 230V 65W 40 mA 24 mA 2x10 kV 33% on 3' 60°C Grounded center IMQ
TRK2-40HD 230V 65W 40 mA 24 mA 2x10 kV 33% on 3' 60°C Grounded center
TRK2-40HK 230V 65W 40 mA 24 mA 2x10 kV 33% on 3' 60°C Grounded center IMQ
TRK2-40HKL 230V 65W 40 mA 24 mA 2x10 kV 33% on 3' 60°C Grounded center IMQ
TRK2-40PVD 230V 65W 40 mA 24 mA 1x15 kV 33% on 3' 60°C Grounded pole IMQ
TRK2-40PHK 230V 65W 40 mA 24 mA 1x15 kV 33% on 3' 60°C Grounded pole IMQ
TRK2-40PHKL 230V 65W 40 mA 24 mA 1x15 kV 33% on 3' 60°C Grounded pole IMQ
TRK2-40SHK 230V 65W 40 mA 24 mA 15 kV 33% on 3' 60°C Insulated
TRK2-40SVD 230V 65W 40 mA 24 mA 15 kV 33% on 3' 60°C Insulated
TRK1-20CUVD 120V 22W 20 mA 12 mA 2x14 kV 100% 60°C Grounded center
TRK1-20PCUVD 120V 30W 20 mA 12 mA 1x15 kV 100% 60°C Grounded pole
TRK2-30PUVD 120V 60W 26 mA 20 mA 1x15 kV 33% on 3' 60°C Grounded pole
TRK2-30PUFVD 120V 60W 26 mA 20 mA 1x15 kV 33% on 3' 60°C Grounded pole
TRK2-30UVD 120V 60W 30 mA 20 mA 2x12 kV 33% on 3' 60°C Grounded center