COFI Primary Connections Plug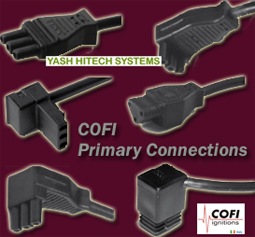 Standard buried cable


Plug A


Plug B


Plug C


Plug D


Plug T


Plug K
COFI High Voltage Cables
Cofi manufactures high voltage ignition cable for all market needs. From the simple copper wire with connector to more complex cable with carbon fiber con -ductor, connector and moulded protections. The High voltage cables with resistive conductor in carbon fiber and semi-conductive rubber are used for shielding electromagnetic disturbances. COFI EMC laboratory is fully equipped with instrument for EMC measurements for cable?s and filters verifications.

SILICONE/CARBON FIBER cable
1x1 diameter 7


SILICONE/ CARBON FIBER cable
1x1 diameter 5.2 mm


SILICONE/COPPER Cable 1x1
diameter 7 mm


SILICONE/COPPER Cable 1x1
diameter 4.7 mm


OZONE, PVC/COPPER Cable 1x1
diameter 7 mm
COFI Connections and protections

Connector for faston


Connector in phosphor


Connector, diameter


PVC over moulded Cap


PVC over moulded 90? Cap


Silicone Cap L = 35 mm


Terminal cap, type A


90? Silicone Cap for 6.3mm


90? Silicone Cap for 4 mm
COFI Installed Cable Lengths
Complete high-voltage cables. Complete cable for high pressure cleaners. It ensures perfect sealing of the transformer outputs for perfect protection against humidity in dirty and contaminated environments.

Cable in silicone/copper

Cable in silicone/ carbon fiber, diameter 7 mm.
Custom-made length. Connector, diameter 4 mm, overmolded. 90? Connector, diameter 6.3 mm, with terminal cover.
Mounting brackets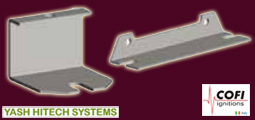 40X40 mm galvanized bracket


102X26 mm galvanized bracket
Filters
Emi disturbance suppression filter.
We are Importer, traders of COFI Transformer in bulk stock since 1996 -97